This is a Sponsored post written by me on behalf of White Cloud for SocialSpark. All opinions are 100% mine.
I can not believe that it's already back to school time. I'm in a little be of denial. Thankfully we do have a couple of trips planned yet this summer that will hopefully make me feel better about summer coming to and end.
I'm not at all ready for school to start again. As a homeschooling mom, I so enjoy my summer and am in no hurry to start school. I still need to get some curriculum for my kids. I probably don't do the "typical" back to school shopping that other parents do but I still go out and pick up the staples and I still look for the best deals.
When I see something on sale, I'll usually stock up at that time. So most of my shopping is done a little here and there as the deals come out. How do you shop? Do you shop all in one trip or a little bit here and there?
Back to School shopping can be so expensive! Aye Aye Aye!
White Cloud knows that going back to school can be just as overwhelming for parents as it can be for kids. There's so much to keep track of and label and purchase. It's enough to make a sane person crazy and a wallet significantly depleted.

The National Retail Federation found that parents spent almost $700 (no, that's not a typo) on back-to-school shopping last year!

White Cloud wants to help. We know that even small discounts can add up to big savings.
That's why we're offering a coupon for $0.75 off our Facial Tissue multipacks. With White
Cloud Facial Tissue multipacks, you get three or six boxes of premium quality tissue at one
affordable price.

You can even help make a difference in the life of a child when you purchase limited edition
White Cloud Facial Tissue multipacks, designed by kids at Children's Miracle Network Hospitals. We will make a donation to three CMN hospitals in the areas that sell the most boxes.
Along with sending your kids back to school, fall also brings all of those lovely germs that will bring sickness upon your household. I stock up on tissue because you never know when those colds will hit.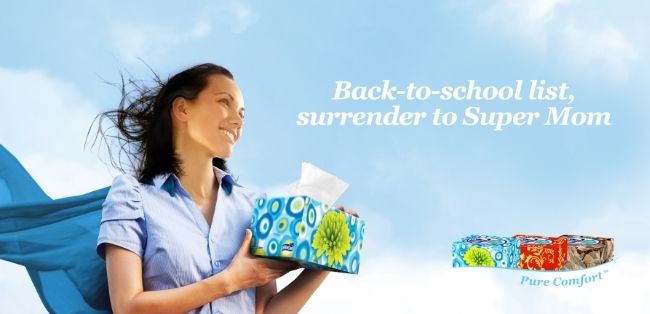 I love White Cloud Facial Tissue. Take a look at some benefits:
• Three or six boxes in one package – perfect if you have multiple kids going back to school.
• Soft and soothing, these tissues are the epitome of Pure Comfort™.
And there's a coupon that you can grab to save a little! Just visit mywhitecloud.com/school-supply-list/ to print your coupon. The White Cloud brand is carried exclusively at Walmart and is only available in select markets. Check out the White Cloud Store Locator tool to find out if this product is carried in your area.
You can also find White Cloud here: